Aberdeen City Region deal 'potentially unlocks £826m'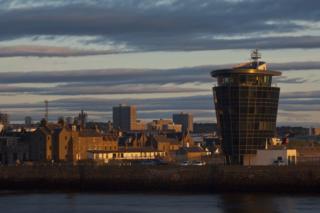 The signing of a £250m Aberdeen City Region Deal could potentially unlock more than £800m of investment, it has been predicted.
The 10-year deal commits the UK and Scottish governments to invest the money, with Aberdeen and Aberdeenshire councils also contributing.
At the signing in Aberdeen, it was estimated the value could be £826m once other investment is factored in.
It is believed hundreds of jobs could be created annually as a result.
Aberdeen City Council leader Jenny Laing said: "The signing of the Aberdeen City Region Deal marks the final stage in the process of bringing the deal to fruition but also marks the beginning of a long-term programme designed to make a positive impact on our region and its economy, bringing benefits now and for generations to come."
'Significant day'
Aberdeenshire Council co-leader Richard Thomson said: "Today is a significant day. We have now put pen to paper on one of the biggest opportunities that this region has seen and it is hard to overstate the importance of this."
The local authorities had delivered a "statement of intent" in September last year.
Businessman Sir Ian Wood headed the new body aimed at securing the Aberdeen City Region Deal.
He said the signing of the deal was a "strong vote of confidence from Westminster and Holyrood in the dynamism, resilience, innovation and growth potential of our key industries".