Markethill School in Turriff closed after '£20,000 vandalism'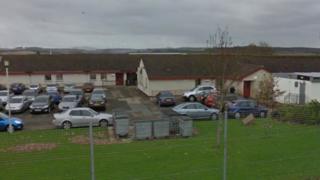 An Aberdeenshire primary school was forced to close after vandals caused more than £20,000 of damage.
Aberdeenshire Council said Markethill School in Turriff would have to be closed to pupils and staff on Monday.
The council later confirmed the school would be closed again on Tuesday and repeated its call for anyone with information to contact the police.
Units were destroyed, food thrown about, and a valuable stained glass window destroyed at the weekend.
Police Scotland said it was "utterly mindless and wanton vandalism" the damage was estimated to be more than £20,000.
Sgt David Threadgold said: "It is absolutely unacceptable that buildings which are of integral importance to our community are targeted in this way.
"Whoever perpetrated this act must have spent a considerable amount of time within the premises.
"As well as the monetary value of the damage, the impact on the community cannot be underestimated.
"Parents have had to arrange extra childcare at short notice, I can assure the public that this was not a decision that was taken lightly, but one which will afford us the best opportunity to catch those responsible.
"Most poignantly, a stained glass window from the original Turriff Primary School has been damaged.
"This iconic piece of art, which was hoped to be transferred to the new school premises symbolises everything that the school means to the staff, pupils and wider community. To damage it in such a way is inexcusable, and I would urge the community to pull together to identify those responsible."