Meeting held over Northern Isles ferry low pay wrangle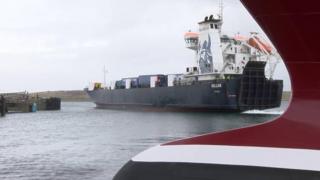 A meeting has been held in a bid to resolve a wrangle over claims some staff on Northern Isles cargo boats are being paid almost half the minimum wage.
The freight vessels Hellier and Hildasay are operated by Seatruck, which is contracted to run the service by Serco Northlink.
The RMT union has said some workers were being paid less than £4 an hour.
The Seatruck managing director met Transport Minister Humza Yousaf.
Seatruck has said the national minimum wage was not applicable to the crew, many of whom are non-UK residents.
Northlink said it had repeatedly offered to bridge the pay gap and backdate it.
A union protest was held in Aberdeen last week.
Mr Yousaf met with managing director Alistair Eagles.
Serco Northlink was awarded the six-year £243m Northern Isles contract in 2012.
It operates three ferries and two cargo boats to the Northern Isles.