First grey seal pup of season rescued at Newburgh by Scottish SPCA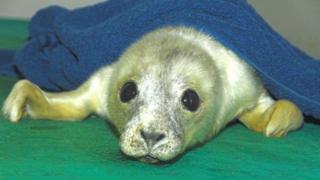 The first grey seal of the season to be rescued is being cared for by the Scottish SPCA after being found on an Aberdeenshire beach.
The orphaned pup - only a few days old - was discovered by a member of the public on Newburgh beach.
Named Snowy, the seal is now in the care of the charity's National Wildlife Rescue Centre in Fishcross.
Centre manager Colin Seddon said Snowy would be rehydrated and then fed until reaching release weight.
He said: "Snowy is our first grey seal pup of the season, which will last until March or April next year and usually sees us treat over 100 injured or orphaned pups."