Aberdeen beach 'tonne of water' safety warning installed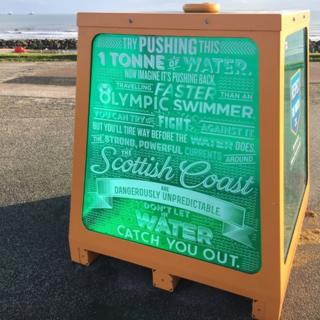 A distinctive new water safety warning - consisting of a tonne of water - has been installed at Aberdeen beach.
The glass-walled weight, adorned with information about the dangers of the sea, has been introduced by the Royal National Lifeboat Institution (RNLI).
It invites beachgoers to push it and imagine what it would be like to try to withstand such a force in the water.
It has been installed near where a six-year-old boy and his mother died after getting into difficulties in August.
While it has not been done in direct response to the deaths of Lucas and Julie Walker, the RNLI hopes it could help prevent similar tragedies in future.
Donald Montgomery, from the lifeboat charity, told BBC Scotland: "We are trying to get the message out by people seeing this thing and looking at what it says."
Lucas, a pupil at Bramble Brae School in Aberdeen, was playing when he was swept away in August.
His 37-year-old mother tried to save him, but both died. His brother Samuel, 13, had also tried to help.
Safety measures at the beach are being assessed as part of an inquiry.