Aberdeen shops sign up for breastfeeding scheme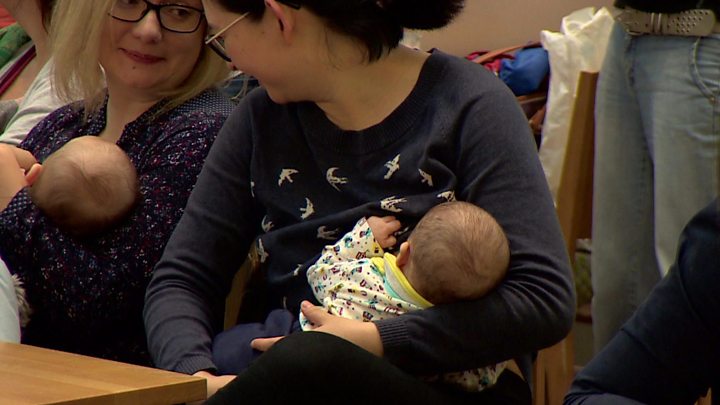 Dozens of cafes, restaurants and shops in Aberdeen have signed up to a scheme to recruit businesses which support breastfeeding on their premises.
The Breastfeeding Welcome Scheme (BFWS) sees participating businesses carry a sign in their window letting mothers know they are welcome to feed their babies.
It is so they know they will not be asked to leave.
More than 60 establishments have signed up so far.
The BFWS is an NHS Grampian and Health and Social Care Partnership initiative to raise the profile of breastfeeding
'No taboos'
Public health dietician Jenny Gordon, who has led the development of the project, said: "The scheme is a great way for businesses to support breastfeeding mothers on their premises.
"Being a member of the BFWS reinforces a business's family-friendly image and helps educate the staff about the laws surrounding breastfeeding."
Mother Jayne MacNab said: "I am sure that nursing mothers across the north east will warmly welcome the Aberdeen Breastfeeding Welcome scheme.
"We really need a choice of supportive places in which to breastfeed with confidence and this scheme has provided exactly that.
"There should be no taboos about doing what comes absolutely naturally and the scheme has made sure that there are now scores of businesses in Aberdeen which are fully behind a mother's right to feed her infant whenever the baby needs it."
An international study in January said rates of breastfeeding in the UK were the lowest in the world.
The data showed that just one in 200 women - or 0.5% - was still doing any degree of breastfeeding after a year.
That compared with 23% in Germany, 56% in Brazil and 99% in Senegal.