Appeal over missing 'storm parrot' Jessie in Ballater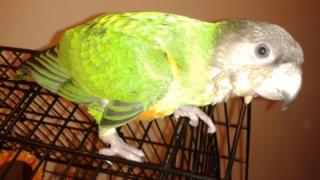 The owners of a small exotic pet parrot which disappeared during stormy weather in Aberdeenshire have appealed for sightings.
Jessie, a two-year-old Senegal parrot, flew out the door of her Ballater home at the weekend.
Her "distinctive whistle" has since been heard, and her owners remain hopeful the green, grey, orange and yellow pet can be returned home safely.
Ian Esson said: "There is still hope, but if we get frost I would worry."
Mr Esson explained: "She is normally on my shoulder.
"There was a storm, I answered the door and a gust of wind came in and off she went.
"I have been calling her and I have heard her in the distance.
"We have had her from the age of eight weeks.
"Hopefully she will find somewhere warm, and food."