Plain clothes wardens to tackle dog fouling in Moray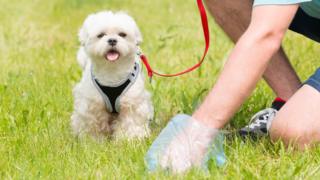 Plain clothes wardens are to be used to tackle dog fouling in Moray, including at a cemetery.
The council said the introduction of the undercover patrols was to combat the seasonal increase in dog fouling.
Elgin Cemetery will be a particular focus, due to sightings of owners allowing their dogs to roam around and foul on graves and headstones.
New warning signs have been installed at the entrances to the cemetery detailing fixed penalty fines of £80.
'Particularly distressing'
Community warden Donna Jamieson said: "We have carried out a number of patrols since receiving complaints of dogs fouling graves and urinating on headstones.
"This is particularly distressing for those visiting the graves of loved ones.
"Most responsible dog walkers observe the signs and ensure their dogs are kept under control within the cemetery grounds, but an inconsiderate minority need to be reminded that the cemetery is a place for reflection and remembrance, not a recreation area or a place to exercise dogs".