Super Puma ban to remain in place despite EASA finding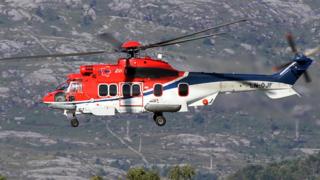 A ban on Super Puma helicopters is to remain in place despite restrictions being lifted by the European Aviation Safety Agency (EASA).
The Civil Aviation Authority (CAA) said it would not allow the 225 and L2 fleet to fly until an investigation into a crash in Norway in April was completed.
The crash killed 13 people, including Iain Stuart from Aberdeenshire.
The fleet was grounded amid concern about the crashed aircraft's gearbox, which showed signs of metal fatigue.
The Airbus Super Puma 225 was travelling from the Gullfaks field to Bergen when it came down near the small island of Turoey on 29 April.
'Commercial flying'
The EASA report said that it had determined an "acceptable level" of safety had been restored to the fleet.
However, the CAA said its restrictions were to remain in place.
In a statement, the Civil Aviation Authority said: "Following the release today by the European Aviation Safety Agency of proposals to allow the return to service of Airbus Helicopters' Super Puma EC225LP (and AS332L2), the UK Civil Aviation Authority has confirmed that its existing restriction, prohibiting all commercial flying of this type by UK operators, is to remain in place.
"The Super Puma helicopter accident in Norway on Friday 29 April is still under investigation by the Norwegian authorities and we remain in close contact with all offshore helicopter operators to continue to assess the situation."
The CAA said it, along with the Norwegian Civil Aviation Authority, was waiting for further information before considering further action.
It added: "The safety of those who travel on offshore helicopter flights is a key priority.
"That's why in 2014 the Civil Aviation Authority launched a comprehensive review of offshore helicopter flying, resulting in significant changes in safety that were welcomed by everyone involved.
"We will continue to work with the helicopter operators, the offshore industries, international regulators, unions and pilot representatives to enhance offshore safety standards still further"
'Robust stance'
The helicopter company said: "Airbus Helicopters takes note of EASA's decision to lift the temporary suspension it had put in place on 2 June 2016 for the H225 and AS332 L2 fleet.
"We are providing assistance to our customers and working with related stakeholders in order to help them return their aircraft to service at the appropriate time.
"Meanwhile, we maintain our full support to the AIBN in the frame of the ongoing investigation."
The organisation Step Change in Safety, which works to improve safety in the UK oil industry, said it welcomed the CAA's caution.
It said: "Recent feedback from the offshore workforce has once again highlighted that helicopter safety is the number one concern and accordingly Step Change in Safety welcomes this robust stance and their alignment with the Norwegian Civil Aviation Authority."