Dog Bess at centre of major Aberdeen search found dead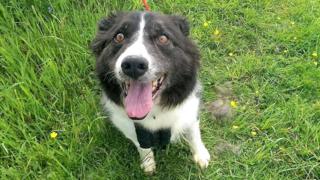 A rescue dog which went missing - sparking a major search which attracted hundreds of supporters and saw drones taking to the sky in a bid to help - has been found dead.
Bess, a 10-year-old collie, was adopted from the Scottish SPCA by grandmother Amy Downs of Aberdeen's Hazlehead area.
However, the dog ran off during a walk on 22 August.
Bess was spotted many times across Aberdeenshire, but was knocked down and killed near Portlethen on Tuesday.
The dog was fearful of people and no-one had been able to catch her. Cages with food inside had also been used.
A "Help find Bess" social media page gained almost 1,000 members, many of whom were searching on foot.
'Kind support'
Mrs Downs' son Andy, who led the search on behalf of his 75-year-old mother, said news of the A90 death was a "sad end".
He said: "I received a call early this morning to say a dog had been seen on the dual carriageway near Portlethen.
"Assuming she was still running around I got up to leave, but five minutes later received another call from a very kind chap to say the dog had been fatally hit by a car and that he had recovered Bess from the central reservation to the roadside.
"Bess is now at home with mum. Thank you to each and every one of you for your kind support over these past few weeks."