Aberdeenshire Council elects Alison Evison as new co-leader after 'Legogate'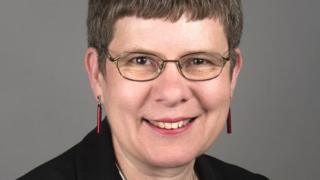 Aberdeenshire Council has a new co-leader, in the wake of the so-called Legogate row.
Labour's Alison Evison replaces Martin Kitts-Hayes, of the Progressive Independent Group, who stood down.
Mr Kitts-Hayes had been due to attend the North Sea Commission in Denmark but returned home early as he was unhappy with his accommodation.
Mr Kitts-Hayes said resulting abuse had put an "intolerable strain" on himself and his family and resigned.
The SNP's Richard Thomson is the other co-leader.
Stephen Smith has become the vice chairman of the policy and resources committee, while Graeme Clark is the vice chairman of infrastructure services.
An internal report revealed Mr Kitts-Hayes felt his Legoland accommodation was like a "glorified shed".