Aberdeenshire farm owner tops UK farm subsidy list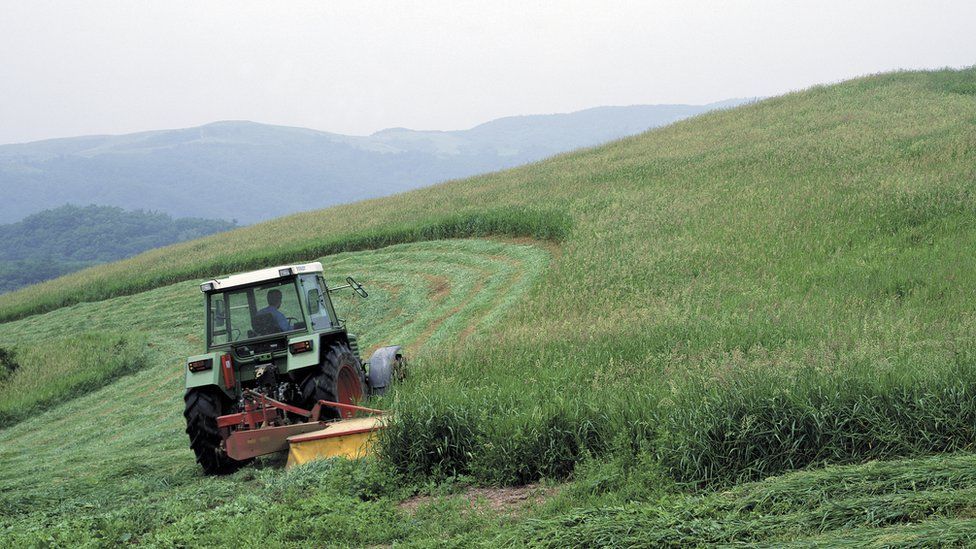 A Scottish farmer has topped the UK list of those receiving subsidies from the European Union under the Common Agricultural Policy (CAP).
Frank Smart, who owns farms near Banchory in Aberdeenshire, claimed almost £3m from the system in 2015.
The policy sees farmers given payments depending on how much land they own.
The National Farmers Union in Scotland has called for the payments to be linked more closely with food production.
Mr Smart, who received grants of £2,963,732.77, has been described as a so-called "slipper farmer" because he buys farms - along with their subsidy entitlement - and then lets them out to be farmed by other people.
When approached by the BBC, Mr Smart said: "I don't want to discuss any part of my business with the media, thank you."
Chief Executive of NFU Scotland, Scott Walker, said it was time the payments were directed towards active food producers and not simply linked to land ownership.
He told BBC Radio's Good Morning Scotland programme: "It's a million miles away from what most farmers recognise the situation to be.
"If you're a sheep farmer on the west coast of Scotland struggling to survive, your subsidies are vital to allow you to keep producing.
"If you're a cereal farmer on the east coast of Scotland, where the price of the market won't actually return the price of what it's cost you to produce cereals, you desperately need your subsidies.
"There's one or two individuals that use the system and found loopholes in the system to maximise their returns, but as I say, it's a million miles away from the situation that most farmers and crofters find themselves in."
Analysis by BBC Scotland Rural Affairs correspondent Kevin Keane
"Slipper farming" has long been an issue.
Here's how it could work: Take the fictional farm of "Subsidy-haugh" in Aberdeenshire. It's a prime piece of agricultural land.
A farmer could own the subsidy entitlement - which could be traded separately - but does not need to own the farm to which it belongs.
By renting a hilltop in the Highlands and sticking a few sheep on it, he proves he's a genuine farmer, triggers the subsidy payment and takes the cash.
But that means the young farmer who's just bought "Subsidy-haugh" can't receive the subsidy. Therefore, making a decent living becomes a struggle for the young farmer.
The good news is that the system is in the process of changing.
Subsidies have been top-sliced to create a pot of money to help young farmers get going.
And the system that allowed slipper farming to take place is now being phased out.
Frank Smart's payments have been reducing year-on-year as a result of these changes and by 2020 they will be substantially less.
The list of UK farmers receiving payments under the CAP system also includes Khalid Abdullah al Saud, a billionaire Saudi prince who received £400,000 in 2015 for his farm in Newmarket.
The system's critics have claimed Brexit will let the UK redirect £3bn in subsidies towards protecting the environment.
A campaign for reform is being launched by Greenpeace, which is demanding a re-examination of the system.
Greenpeace chief scientist Doug Parr told BBC News: "The subsidy system is utterly broken. We need public money spent on farming to be offering demonstrable public benefits."
Lib Dem MSP Mike Rumbles said the payments were "a clear indication of how broken the current system is".
He said 38% of farmers have an income of less than £10,000 a year.
Mr Rumbles added: "After 2020, agricultural payments will be entirely devolved to the Scottish government, with our share of funding coming to Scotland through Barnett consequentials.
"That means we can move away from the arbitrary nature of the present system, stop excessive subsidies to farming conglomerates, and create a system that will provide the best support for our rural communities."
Related Internet Links
The BBC is not responsible for the content of external sites.