NHS Grampian told to apologise over Aberdeen Alzheimer's patient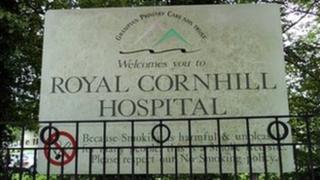 NHS Grampian has been told to apologise over failings in the care of an Alzheimer's patient who died.
The patient was cared for at Royal Cornhill Hospital in Aberdeen for 10 months after displaying "very challenging behaviour".
His behaviour became more stable and he was transferred to another hospital. His condition deteriorated and he died six weeks after the move.
The Public Services Ombudsman said the case had raised "significant" failings.
The patient's partner had been against the transfer to another hospital.
'Lack of focus'
The report said: "This case has raised significant failings, particularly in the most standard elements of nursing care: effective care planning; keeping a patient safe; monitoring their condition; providing appropriate food and nutrition; record-keeping; and communication with relatives.
"Caring for Mr A was not always made easy by Mr A's challenging behaviour, but the planning and communication around his care were all the more necessary because of his behaviour and incapacities.
"I am also particularly critical of the way the board handled this complaint and their lack of focus on their failings and ways to improve their services."
A number of recommendations were made as a result.
'Fallen short'
An NHS Grampian spokeswoman said: "This was an extremely unusual and difficult case which has impacted on the staff involved in this patient's care.
"Staff on both wards were doing their very best to provide high quality care in very difficult circumstances.
"However to ensure that we learn and make improvements we are looking at all aspects of our practice and commit to making any changes needed.
"We have accepted the Ombudsman's recommendations and will be writing to the patient's partner to apologise for areas where our care has fallen short of the high standards we expect and also for shortcomings in the handling of the complaint."