Iron Age jewellery made on Orkney recreated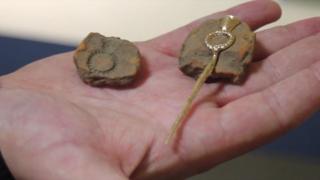 A piece of Iron Age jewellery has been recreated using 3D printing technology.
Clay moulds used for casting bronze ring headed pins in the First to the Third Century AD were scanned to help recreate the ancient accessory.
The original moulds found at The Cairns on South Ronaldsay, Orkney, are too fragile for making jewellery today.
Ben Price, a postgraduate student at the University of the Highlands and Islands Archaeology Institute, made the recreation.
About 60 fragments of clay moulds were found during recent excavations of an Iron Broch at The Cairns.
Brochs, also known as Atlantic roundhouses, were stone towers built in the Scottish islands and Highlands.
Human remains were also found by archaeologists during the dig earlier this year at The Cairns.
---
Making the pin
Ben Price's recreation of Iron Age jewellery followed a process, from the discovery of the original clay moulds to the casting of the shiny new pin.
Mould fragments unearthed from the ground at The Cairns
3D image made on computer screen from photographs and scans of the original moulds
A real wax pin could then be made using a 3D printer
That was then pressed into clay to make a new mould
Once the clay was set, bronze was poured into the new mould which melted the wax pin
The mould was left to cool for 48 hours
The mould was then knocked apart, revealing the moulded bronze pin
---
Mr Price photographed and scanned the original Iron Age clay moulds into a computer and created a digital 3D image on the screen.
He then created a 3D computer model of the pin which was sent off to be 3D printed in wax so the pin could be cast in bronze, the material used by Orkney's jewellery makers thousands of years ago.
Martin Carruthers, Masters degree programme leader at UHI, said: "This process gives us a unique and exciting insight into the objects that the people of The Cairns actually experienced and used over 2,000 years ago.
"You can see the imperfections and the work involved.
"The process also opens up many possibilities in terms of experimental archaeology in addition to educating the public at large.
"The object also in a way opens up the possibility that the Iron Age was full of colour and bright objects that were treasured.
"Perhaps they were not so dissimilar to people of today."