Message in bottle found in Russia 15 years after Findochty release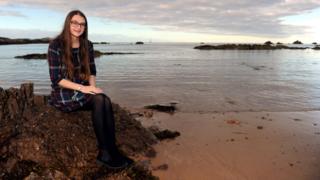 A message in a bottle dropped in the sea by a two-year old girl in Scotland has washed ashore in Russia 15 years later.
Emily Plant of Findochty, Moray, dispatched the bottle in August 2001 as part of a local gala competition.
It has finally been found on the Yamal peninsula in Siberia.
Now 17, Emily has been invited to the Arctic Circle Assembly - where First Minister Nicola Sturgeon will speak - in Reykjavik, Iceland, to reclaim it.
Buckie High School pupil Emily told the BBC Scotland news website: "It's been a bit overwhelming and a bit out of the blue.
"I was only two so I cannot really remember it. It really has gone a long way.
"But I've now got a free trip to Iceland, the flights are booked. I am very excited, and am also looking forward to hopefully meeting Nicola Sturgeon as my favourite subject is modern studies."
She said word had quickly spread locally, with people coming up and asking if she was the girl with the bottle.