Wood Foundation bids to help science teaching in Scotland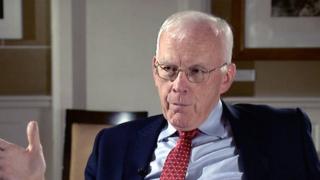 A charitable foundation set up by retired oil tycoon Sir Ian Wood is to spend £2.5m in a bid to improve science teaching in Scottish schools.
A pilot project carried out by the Wood Foundation (TWF) in schools in Aberdeen is now set to to be expanded.
The seven-year project is aimed at improving science teaching at primary level.
Sir Ian said the extra funding would supplement money provided by government and local authorities.
He told BBC Scotland: "The easy answer is the Scottish government should pay for everything but the fact is they don't have the funds to do it.
"We are doing it with them, they are going to provide some of the funding, the local authorities will provide some of the funding, so it's not just us stepping in and doing it, we are providing the lion's share.
"If we think things will be done by government then of course we will leave it to them, but in many cases they can't."
'Good progress'
The announcement was made as a review revealed Sir Ian's family trust - now in its ninth year of operation - has committed funding of £70m for charitable ventures.
Aberdeen-based TWF has pledged more than £40m of investment to initiatives in the north east of Scotland.
Abroad, thousands of farmers in East Africa are getting support for a new planting programme.
Sir Ian said: "TWF continues to make really good progress with a significant feature this year being our increased commitment to various economic and educational projects in Scotland.
"Our philosophy of helping people to help themselves continues to make significant inroads across all of our portfolios and our success means we are able to attract other like-minded philanthropic investors and donors.
"We have invested £25m to-date, committed a further £45m, and TWF has £90m funds still to commit, so we are not resource-constrained in developing our programmes."
Funding included £10m for a new Aberdeen Royal Infirmary car park.
Sir Ian retired as chairman of Aberdeen-based oil services firm Wood Group in 2012.
He was chairman of the company since 1982 and served as its chief executive from 1967 to 2006.