Ballater Old Royal Station to be redeveloped after fire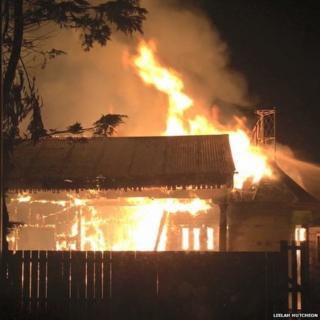 The redevelopment of a historic railway station in Royal Deeside, which was destroyed in a fire, has been approved.
The Old Royal Station in Ballater was ravaged by the blaze in May 2015.
The Cairngorms National Park Authority (CNPA) has given the go-ahead for the reinstatement after approving an Aberdeenshire Council planning application.
The old station had been the final stopping point for members of the Royal Family heading to Balmoral.
Planning committee convener Eleanor Mackintosh said: "We are delighted to be able to approve Aberdeenshire Council's application to bring back the Old Royal Station, which has been missed greatly by the community and visitors to the area.
"Ballater experienced more than its fair share of troubles in 2015 (with flooding) so it is great to see the town back on its feet and very much open for business with a number of exciting developments going on."
Moira Ingleby, chairwoman of Aberdeenshire Council's Marr area committee, said: "Approval of the plans is testament to the work which has gone on behind the scenes to get to this point."
Firefighters managed to save a replica of a Royal carriage which had taken Queen Victoria to Scotland in 1869.
It had been hand-crafted to match the original design after being commissioned by VisitScotland at the suggestion of Prince Charles.