Tributes as broadcaster Robbie Shepherd steps down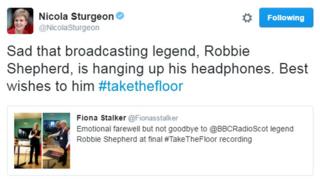 News of broadcaster Robbie Shepherd leaving BBC Radio Scotland's Take the Floor after 35 years this weekend has prompted social media tributes.
The 80-year-old champion of the Doric dialect will step down from the Scottish dance music show this weekend.
First Minister Nicola Sturgeon said on Twitter: "Sad that broadcasting legend, Robbie Shepherd, is hanging up his headphones. Best wishes to him."
Others highlighted how they had grown up with his voice on the radio.
Robbie was described as "a legend and all round really nice human being", and another comment said "Stuck on a bus, coming home from an away game in Edinburgh, will never be the same again #TakeTheFloor".
Robbie's work has been recognised with an MBE, and he was also inducted into a hall of fame by the Trad Music Awards.
Robbie said of the future: "I am taking a break, that is for sure."
He added with a smile: "But, as they say, I am a wanted man. I hope sincerely you have not heard the last of this Doric voice.
"It's been 35 years of sheer pleasure."
Robbie's final Take the Floor will be broadcast on Saturday 17 September at 19:00.