MP criticises Orkney murder case review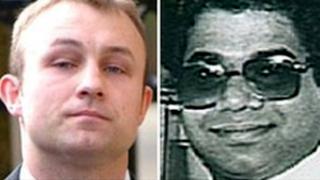 A review into the conviction of a man jailed for the murder of a waiter in Orkney in 1994 has been criticised.
Michael Ross was found guilty of shooting Shamsuddin Mahmood, 26, in the head in Kirkwall's Mumataz Restaurant.
The former Black Watch sniper was jailed for a minimum of 25 years in 2008 after being convicted of murder.
A review did not support a miscarriage of justice claim. Northern Isles MP Alistair Carmichael has said a fresh review is needed.
The Scottish Criminal Cases Review Commission (SCCRC) said in 2014 there was not enough evidence to support claims there had been a miscarriage of justice.
Masked gunman
In a letter to the Justice For Michael Ross campaign group, Orkney and Shetland MP Mr Carmichael suggested that a fresh review should be carried out.
He said it was not appropriate for him to express a view on whether Ross was guilty.
Both the SCCRC and Police Scotland said they were not willing to comment on the case.
Mr Mahmood was shot in full view of a room full of diners, including families with children, by a masked gunman.
Ross - 15 at the time of the crime - was found guilty of the murder after a trial at the High Court in Glasgow in 2008.
When the verdict was delivered, he fled from the dock before being caught by a court official and police.
He had a cache of arms hidden in a hired car parked less than a mile away.