Tar to be removed from historic Aberdeen cobbles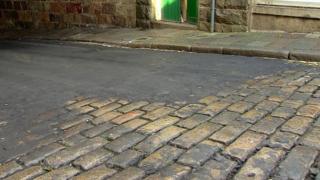 A stretch of tarmac laid over a historic cobbled street in the medieval heart of Aberdeen is to be removed.
Aberdeen City Council said the resurfacing on Windmill Brae was necessary because some of the stones had come loose.
Concerns had been raised on safety grounds by local businesses.
However, the local authority said the work was below standard and the tar would be removed. A "permanent solution" is being sought.