Report reveals Legoland trip councillor's accommodation complaint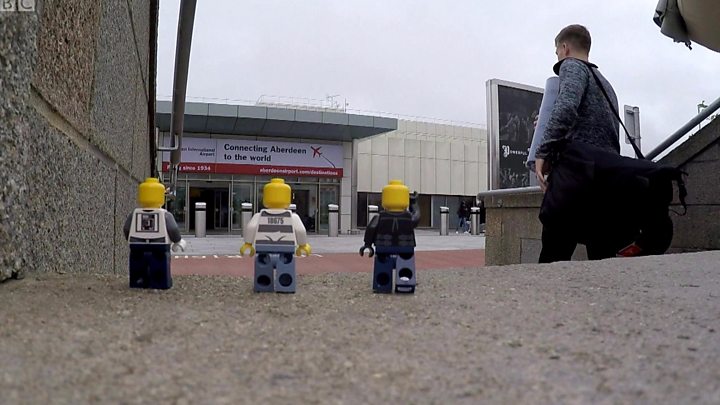 A council co-leader returned home early from a foreign conference because he felt his Legoland accommodation was like a "glorified shed", an investigation has revealed.
Martin Kitts-Hayes, of Aberdeenshire Council, was due to attend the North Sea Commission in Denmark in June.
The three-strong delegation returned as the cabins were likened to Butlins back in the 1970s.
Some councillors have called for Mr Kitts-Hayes to resign.
The full council will consider the internal report on 1 September.
The trip cost the council a four-figure sum.
The report said Mr Kitts-Hayes had specifically requested a double room was booked for him as he could not sleep in a single bed due to his height of 6ft 2in.
It stated: "Councillor Kitts-Hayes' first impression of the Holiday Village was that it was reminiscent of Butlins in the 1970s."
He assessed that it was unsuitable, and walked to Hotel Legoland to check if there were any rooms available, however, it was fully booked.
The three delegates all returned to Scotland, having been in Denmark for a matter of hours.
The report said: "Councillor Kitts-Hayes was unequivocal in his insistence that alternative accommodation be found or he would be returning home that day.
"The standard of accommodation fell well below the expectations of Councillor Kitts-Hayes.
"He described the accommodation as a glorified shed which might be suitable for a young family but not a councillor, particularly one who is 6ft 2in and 17 stone, or a council officer.
"He expects a bed big enough that he can lie down comfortably. The shower area was too small for him to stand up in."
Mr Kitts-Hayes - the councillor for Inverurie and District and co-council leader with the SNP's Richard Thomson - said in June that his decision "was a poor one".
Mr Kitts-Hayes, of the Progressive Independent Group, said: "As the leader of the delegation, it was my decision that we should return and I take full responsibility for that decision.
"However, it is clear that this decision to return has caused significant concerns, both amongst colleagues, as well as our Danish hosts.
"It was never my intention that this should be the case. However, upon reflection, I acknowledge that the decision to return was a poor one."
'Frankly astonished'
Jim Gifford, leader of the Alliance Opposition Group and Conservative group leader, said: "We are pleased that the report is now formally in the public domain and so can be read and considered by council tax payers in Aberdeenshire.
"I have no doubt whatsoever that they will find Councillor Kitts Hayes' actions and decisions - both in Denmark and afterwards - as indefensible as we do and conclude that he has no alternative but to resign immediately.
"We are frankly astonished that he hasn't done so already."
Council chief executive Jim Savege will carry out a further investigation into the actions of those with access to the report - which was sent to councillors in confidence - after an earlier leak to the media.