Safety measures part of Aberdeen beach deaths probe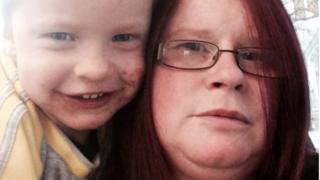 The public safety measures in place at Aberdeen beach will be considered as part of an investigation into the deaths of a young boy and his mother.
Six-year-old Lucas Walker was playing when he was swept away on Saturday.
His mother, 37-year-old Julie Walker, tried to save him, but both died. His 13-year-old brother, Samuel, had also tried to help.
Ross Greenhill, from Aberdeen Coastguard, said safety measures would be assessed.
He told BBC Scotland: "There are lifeguards at certain times of the year, through the summer holidays for example there are lifeguards, they finish at about 4pm on most days.
"There are however a number of lifesaving devices along the beach, pretty much every life ring in the area was brought to bear during this incident.
"Some members of the public had got hold of these pieces of equipment and used them."
'Lovely little boy'
Mr Greenhill explained: "We will be working with Police Scotland on this investigation to find out what happened.
"We will also be speaking at some point to the local authority about safety systems that are in place, and we will look at whether there are any improvements that may be able to be made."
Lucas was a pupil at Bramble Brae School in Aberdeen.
Head teacher Amanda Murray said: "Pupils, teachers and the wider school community are deeply saddened and in a state of shock following the dreadful news of Lucas's and his mum's tragic deaths at the weekend.
"Lucas, who had just started primary three, was a lovely little boy who was popular amongst his classmates and staff at the school.
"On behalf of everyone at Bramble Brae School we would like to express our deepest condolences to Lucas's family and friends at this very sad and difficult time."
'Tragic event'
Aberdeen City Council Leader Councillor Jenny Laing said: "Our undivided attention is in supporting Lucas's family as well as his schoolfriends.
"We will be working closely with partners over this sad and tragic event and our thoughts are with the family.
"As stated by Ross Greenhill, the Maritime and Coastguard Agency's coastal operations area commander, Aberdeen beach is well served by both signage and life safety equipment at the beach.
"In addition to the Coastguard review, the Local Resilience Partnership which includes the city council will be carrying out a multi-agency review of the rescue and recovery efforts to ensure any lessons can be learnt."
She added: "We would ask the media to respect this is a difficult situation for young children to come to terms with, and that you allow the whole of the school community to come together."
The mother and son, from Aberdeen, were both taken to hospital but could not be saved.
Lucas's brother was also pulled from the water, along with a man and a woman who had also tried to save the pair.
Ch Supt Campbell Thomson said police were investigating a "very tragic incident", with officers searching the beach and nearby rocks.
He said it was clear "heroic attempts" were made to save the mother and son.
The emergency services were alerted to the incident at about 16:45 on Saturday.
Four other people died in separate incidents in the seas around Britain over the weekend, with strong winds and high tides being blamed.