Missing pensioner Norma Webster was locked in toilet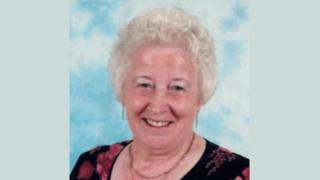 Moray Council has said it will carry out an internal review after an elderly woman was found unconscious in a locked public toilet.
A search had been launched for Norma Webster, 78, which included the use of a helicopter.
It is believed Mrs Webster had suffered a stroke while visiting the facilities in Forres before being reported missing on 31 July.
She lay undiscovered for about 21 hours, and remains in hospital.
Mrs Webster's daughter-in-law Raquel MacDonald told BBC Scotland: "We were worried and upset because we were dreading something bad had happened.
"All along she was in those toilets."
A spokesman for Moray Council said: "The council can only apologise most sincerely to Mrs Webster and her family for what must have been a distressing ordeal for all of them.
"An urgent review of procedures will now be done to ensure that where, as was the case here, we operate toilets in partnership with the local community who open and close them, there is no prospect of a similar incident happening again."
'Not the case'
Moray area commander Ch Insp Stewart Mackie of Police Scotland said: "Following a report from the family of Mrs Webster during the evening of Sunday 31 July officers from across Moray, including specialist resources, were involved in an extensive search for Mrs Webster.
"We carried out searches around her home, the areas she was last seen and where she was thought to frequent.
"Whilst the public toilets in Leys Road came within this area we worked under the assumption that when the toilets were locked they were checked, clearly that was not the case this time. It is a very tragic set of circumstances."