Fresh 48-hour offshore strike being held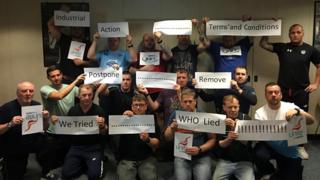 A 48-hour strike by offshore workers is getting under way.
The action on Thursday and Friday on seven Shell-operated platforms follows fresh talks ending without agreement.
Unite and the RMT unions are representing hundreds of workers involved in the dispute over pay and conditions with oil services company Wood Group.
A 24-hour strike held a week ago was the first industrial action of its kind in the North Sea in nearly 30 years.
Aberdeen-based Wood Group provides maintenance and construction to Shell and signed a three-year extension to its contract earlier this year.
Some workers claim they are facing cuts of up to 30%.
Wood Group - which denies that claim - said it was "hugely disappointed that the action was progressing".
The industrial action affects the Shearwater, Gannet, Nelson, Curlew, Brent Alpha, Brent Bravo and Brent Charlie platforms.
BBC Scotland revealed on Tuesday evening that the fresh talks had failed.
John Boland, Unite's regional officer, told Radio Scotland's Good Morning Scotland programme they wanted more involvement with Shell, which owns the seven oil rigs affected by the industrial action.
He said: "They've been very much of the view that it's nothing to do with them.
"I think it's vital that Shell get involved in this and actually try and help to resolve this."
He added: "The employers have got to realise that they can't just cut and slash terms and conditions as a way of getting out of the difficulties in the North Sea.
"They've got to work together with the unions to find a constructive way forward."
'Continue discussions'
Dave Stewart, from Wood Group, said he was disappointed that the unions had chosen to go ahead with further industrial action.
He told the programme: "Why do people want to strike when we've offered to continue with the dialogue to get to a position of what will solve this. I do not have a clear mandate from the unions that says 'if you give me this we will be happy".
A spokesperson for Shell said the industrial action was "deeply disappointing".
The spokesperson said: "The UK oil and gas industry is facing an unprecedented challenge with the lower oil price environment and structural change is needed if the North Sea is to remain competitive.
"Shell's priority is to ensure the safety of all personnel and assets during this period of industrial action.
"We would encourage Wood Group management and employees to continue in their discussions so that a resolution may be reached which halts this industrial action."