Northern Isles ferry fares frozen for 2017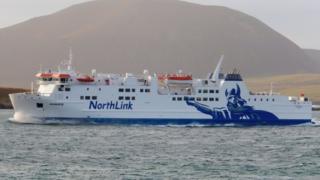 Ferry fares to and from the Northern Isles are to be frozen for 2017.
It will be the second year in succession when there has been no increase in fares to Orkney and Shetland.
The announcement came as Transport and Islands Minister Humza Yousaf began a three-day trip to the isles.
He said he was committed to following through with the SNP's election pledge to reduce prices on the routes.
A report has been commissioned to specifically look at ways to lower fares.
But the Liberal Democrats have accused the SNP of going back on the pre-election promise.
The Northern Isles Ferry Service is operated by Serco Northlink Ferries on behalf of the Scottish government.
'Vital services'
Mr Yousaf said: "We want these vital services to continue to be accessible and affordable, so keeping ticket prices on hold next year will help achieve that.
"We have made a key commitment to cut fares on ferry services to the Northern Isles and we continue to work towards that goal.
"I have commissioned a study to look specifically at fares on Northern Isles routes, with a view to bringing in a new pricing policy and ultimately reducing the cost of ferry travel.
"The Northern Isles present a number of challenges for a new fares policy. As we have said before, bringing in Road Equivalent Tariff would significantly increase the ticket prices on the majority of services. The presence of a commercial operator on some routes also complicates matters.
"So I will be asking my officials to engage and meet with the local councils, elected members, community groups and other key stakeholders to discuss the potential options available to us."
'Not acceptable'
Lib-Dems Shetland MSP Tavish Scott said the fares announcement was not "fair, reasonable or in any way acceptable".
He said: "Shetland passengers will be desperately disappointed that the SNP government promised cuts and have not delivered.
"The ferry service to Aberdeen is our lifeline - our motorway to the Scottish mainland.
"More than 3,000 local people have supported a petition that asked the SNP to maintain their election commitment to ferry fare cuts made with great fanfare by Nicola Sturgeon in Lerwick in April. This has now been abandoned.
"Islanders will not forget that the SNP cut ferry fares on Scotland's west coast by 50%. We are all asking why the Northern Isles are not getting the same."