Driver banned for life after Huntly crash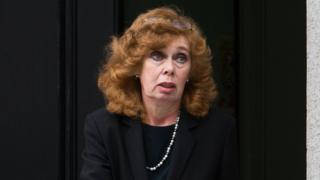 A motorist has been banned from driving for life after hitting two pedestrians while suffering what she said was a seizure in Aberdeenshire.
Hilda Lumsden-Gill, 59, was found guilty of dangerous driving after the incident in Huntly in May 2014.
One of the women left badly injured was airlifted to hospital.
Lumsden-Gill was banned from driving for life at Aberdeen Sheriff Court and was also told to undertake 300 hours of unpaid work.
The former teacher lost control of her Jaguar X-Type before hitting a parked truck on Huntly's Bogie Street.
She then mounted the pavement and struck Pauline Thomson, throwing her over the bonnet of the car.
The car continued to drive along the road with the mother-of-four still on top of the vehicle, before knocking over Georgina Couper who was standing on the pavement.
Lumsden-Gill claimed she had suffered a "complex partial seizure" at the time of the collision, and had lodged the special defence of being in a state of automatism.
She told a jury she had suffered from seizures occasionally since 1996, and that despite scans being carried out she had not received a full diagnosis.
Unblemished character
While giving evidence, she said: "If I had been aware, I would have reported it to my doctor and I would not have driven.
"I would have been worried about the safety of not only myself but of the general public."
Defence lawyer Niall McCluskey said his client was a person who had lived a life of an unblemished character who had worked ceaselessly for the good of the local community.
The sheriff was handed dozens of references from residents living in the Huntly area expressing their appreciation for all her hard work as well as highlighting her devotion to her role as a teacher.
Sheriff William Summers said he was concerned about her failure to recognise her responsibility for the accident.
He told her: "For the avoidance of doubt, this accident was your own fault, entirely your own fault and only your fault."
The sheriff told the court that the two pedestrians had suffered life-changing injuries and were likely to be physically and emotionally scarred for the rest of their lives.