Images of planned Aberdeen Royal Infirmary car park unveiled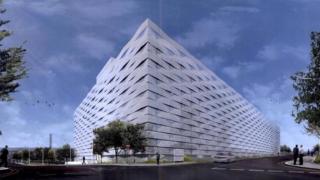 Images of what a planned £10m car park at Aberdeen Royal Infirmary could look like have been unveiled.
The multi-storey car park would have space for more than 1,000 vehicles for patients and visitors.
Funding to improve car parking at ARI was pledged to NHS Grampian by The Wood Foundation, set up by businessman Sir Ian Wood and his family.
The aim of the pledge was to see a car park built without diverting funds from healthcare services.
An NHS Grampian spokeswoman said "These images are indicative but reflect our ambition for this project, made possible by the very generous support of The Wood Foundation.
"We have been working closely with Aberdeen City Council's planning department and have submitted our final proposed design for them to consider.
"We expect this to happen in due course."
Sir Ian said: "It's good to see tangible progress on this much-needed project, which is being championed by my wife, Helen. We are both pleased with the artists' impressions which show an attractive building that will enhance the hospital's estate.
"Our aim was to help fund a new car park that would alleviate the stress for patients and their families caused by the current inadequate parking.
"The Wood Foundation pledge ensures that a new car park will not divert funds from vital front-line healthcare services."