Aberdeen football stadium opponents defiant over abuse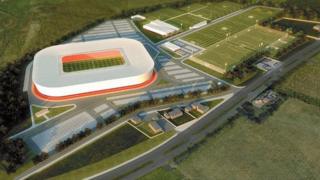 A group opposed to Aberdeen FC's plans to build a new stadium on the outskirts of the city has vowed to continue its campaign despite facing online abuse.
The Say No To Kingsford Stadium group told BBC Scotland it had been inundated with abuse from some fans.
An incident in which weed killer was sprayed over one campaigner's garden has also been reported to police.
However, a spokesman for the group said the incidents would not stop them campaigning.
Aberdeen FC wants to leave its current home at Pittodrie and build a new stadium and football academy at Kingsford, near Westhill.
Negative impact
Say No To Kingsford Stadium argues that it is green belt land and the development would have a hugely negative impact locally.
Its spokesman said no-one in the group was anti-football and they would support the right development in the heart of the city.
An Aberdeen FC spokesman said the club condemned any online abuse.
The Dons had been considering a relocation to Loirston, to the south of Aberdeen, a proposal which had been marred by planning difficulties.
Chairman Stewart Milne has described Kingsford as "an ideal location for supporters".