Star Wars and Robocop props draw crowds to Aberdeen centre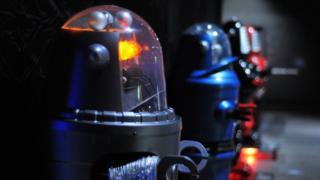 An exhibition of robot characters from films such as Star Wars and The Terminator has proved to be a big draw for Aberdeen Science Centre.
More than 500 people attended the opening weekend of the summer-long display of full-size models.
The exhibition, which includes props from one of Europe's largest private collections of movie and TV show robots, spans 60 years.
It includes models made in the 1950s to the present day.
Elaine Holland, visitor experience manager, said: "It's an exciting exhibition for the science-fiction fans and the whole family because you can be sure to recognise a robot from a movie or show you watched.
"Beyond seeing characters that you would normally see on screen, the robot exhibition gives you the opportunity to discover how designers and special effects teams worked to create the scariest, funniest and most lovable robots."