Ancient tree trunk unearthed at Aberdeen's Seaton Park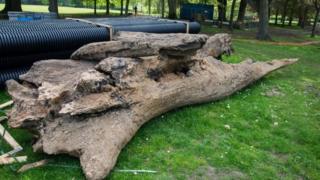 A large tree trunk that may have lain undisturbed under a city park for thousands of years is to be examined by scientists after being dug up.
The find was made by contractors working on a £90,000 project to create a wildlife wetlands area in Aberdeen's Seaton Park.
It is believed the trunk was washed down to where it was found when the park was part of the nearby River Don.
A sample of the tree has been sent to the University of Aberdeen.
It is hoped experts at the university can determine the species and age of the tree, Aberdeen City Council said.
Contractors have also unearthed a glacial erratic, a piece of rock that differs from the size and type of rock native to the area in which it rests.
It is thought the rock, which will require specialist equipment to move it from the park, was deposited where it was found during the last ice age.