Ship to be detained in Aberdeen for 'two more weeks'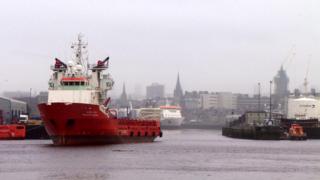 An offshore supply ship may be detained in Aberdeen for another two weeks on the grounds of non-payment of crew wages.
The Malaviya Seven will have to stay at port until workers are paid. Provisions are also said to be running low.
It was detained under merchant shipping regulations.
Liam Wilson, an inspector for the International Transport Workers' Federation, said the crew had not been paid for several months.
Howard Drysdale, of the Aberdeen Seafarers Centre, told BBC Scotland the crew "are a good bunch of guys and do not deserve this".
A vessel in Great Yarmouth has been detained for similar reasons.