Men jailed for 13 years for Fraserburgh rape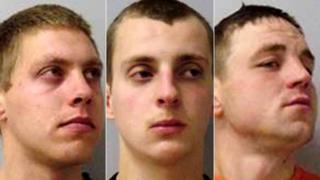 Three men who raped a woman they met in a nightclub in Fraserburgh have been jailed for more than 13 years.
Nerijus Radavicius, 29 and Justinas Gubinas, 22, were convicted of a concerted rape of the 32-year-old woman and filming it on a mobile phone.
Co-accused Ovidijus Kavaliauskas, 22, was found guilty of raping the woman while she was asleep.
The offences took place in a farmhouse in 2014. The Lithuanians were each jailed for four years and six months.
The trial was held at the High Court in Aberdeen and they were jailed at the High Court in Glasgow.
The three men were staying in the Fraserburgh farmhouse at the time.
'Jury didn't agree'
The woman had agreed to go back to their house.
All three denied rape and claimed that the woman had consented to sex with them.
Advocate George Gebbie, representing Gubinas, said: "His position has not changed. He claims it was consensual."
Advocate Dale Hughes, representing Radavicius, said: "My client said he thought it was consensual."
Advocate Derick Nelson, representing Kavaliauskas, said: "He has shown remorse and regret. He had intercourse with the woman. He says this was while she was almost asleep and in his opinion she was fully consenting. The jury didn't agree with him."
'Grave crime'
Judge Lord Armstrong told them: "The crime of which you were convicted - rape - is a grave crime against which all women should be protected."
Det Insp John Swanney, of Police Scotland, said: "I would like to pay tribute and thank the female victim involved in this case for speaking out against Gubinas, Kavaliauskas and Radavicius.
"This incident was extremely traumatic for the victim and having to relive it in court will have been very distressing.
"I hope that she can move on with her life as best as she can in the knowledge that these men have been brought to justice for the crimes they committed and received significant custodial sentences."