Protest over Aberdeen school redevelopment plan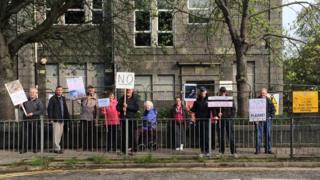 A hearing into the future of a former Aberdeen school at the centre of controversial redevelopment plans is under way.
The city council wants to sell Victoria Road Primary - which shut its doors in 2008 - to make way for homes.
However, there have been objections on the grounds of what is said would be the loss of Torry's granite heritage.
Councillors visiting the site were met by more than 30 protestors. An immediate decision will not be made.