Prince Harry gets Orkney slate gift at Invictus Games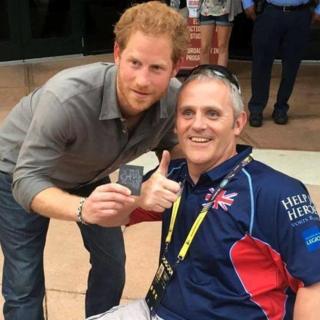 Prince Harry has been gifted a carved roof slate from Orkney during the Invictus Games in Florida.
The prince founded the games for injured servicemen and women.
One participant, Luke Delahunty from Aylesbury, received the Stromness Kirk slate from friend and spare time carver Davy Prentice, from Finstown in Orkney, as a good luck token.
Mr Delahunty, who served in the RAF, showed the slate to Prince Harry and then gave him it.
Mr Prentice said he was "blown away" that his carving was now in royal hands.