Holyrood 2016: Conservatives gain Aberdeenshire West amid SNP wins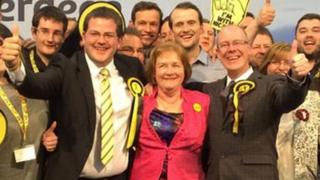 The Scottish Conservatives have won Aberdeenshire West from the SNP after a major swing in the vote as well as four list MSPs.
Alexander Burnett was elected after the party's share surged 17%.
It was an otherwise good night for the SNP, holding all three Aberdeen seats, and the party also won Aberdeenshire East, Moray, Banffshire and Buchan Coast and Angus North and Mearns.
The Lib Dems held in both Orkney and Shetland.
The North East regional list result was delayed amid a partial recount of Aberdeen Donside following reports a relative of Labour candidate Lewis Macdonald was involved in the count.
When it was finally announced at 09:00, the Conservatives had four list MSPs - Alex Johnstone, Ross Thomson, Peter Chapman and Liam Kerr. Labour had two - Mr Macdonald and Jenny Marra - and the Lib Dems one with Mike Rumbles.
Mr Burnett secured a 38.1% share in Aberdeenshire West, with the SNP vote falling 7% with Dennis Robertson.
Mr Burnett told BBC Scotland: "I put it down to the hard work of my team. We had an underlying belief we could win."
'Faith in me'
The SNP's Kevin Stewart secured a 43.6% share in Aberdeen Central, ahead of Mr Macdonald.
He told BBC Scotland: "I am very pleased that the people of Aberdeen Central have put their faith in me once again."
Mark McDonald won Aberdeen Donside for the SNP with a 56% share, ahead of Conservative Liam Kerr.
The SNP's Maureen Watt triumphed in Aberdeen South and North Kincardine with a 42.1% share of the vote. Ross Thomson was second as the Conservative vote increased by 19.4%.
In Aberdeenshire East, the SNP's Gillian Martin secured 45.8% of the vote, down 18.7%, ahead of Conservative Colin Clark.
Richard Lochhead triumphed for the SNP in Moray, with a 47.1% share, Conservative Douglas Ross was second.
Stewart Stevenson also held Banffshire and Buchan Coast with a 55.1% share. Peter Chapman was second for the Conservatives.
Angus North and Mearns was another SNP hold, with Mairi Evans securing a 45.7% share, ahead of Conservative Alex Johnstone.
Orkney Islands was the first constituency to declare in the Scottish Parliament election, with the Liberal Democrats holding the seat.
Liam McArthur was re-elected with 67% of the vote, a 31.6% surge, with the SNP's Donna Heddle second.
Lib Dem Tavish Scott held the Shetland Islands seat with a 67.4% share, an increase of 19.9%, ahead of the SNP's Danus Skene.
It was the fifth election since the Scottish Parliament was established in 1999.