Man jailed for neglecting three dogs in Aberdeen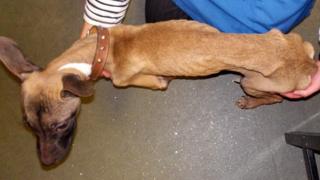 A man whose three neglected dogs had to be put down after being found in his Aberdeen flat has been jailed.
Ivor Duncan's Staffordshire bull terriers were left to chew on food cans and use his flat as a toilet for three months.
Aberdeen Sheriff Court heard the dogs never recovered mentally, and were put down.
Duncan, 32, admitted offences under the Animal Health and Welfare Act. He was jailed for 23 weeks.
He was also banned from keeping animals for at least five years.
Neighbours concerned for the welfare of the dogs had called in the Scottish SPCA in 2014, and police helped force entry to the Great Northern Road property.
'Skin and bone'
Fiscal depute Alan Townsend said the youngest dog - a puppy of the other two - was "extremely emaciated".
Mr Townsend said: "It was effectively skin and bone.
"The other two dogs were also described as very thin.
"On opening the door, the dogs were so desperate to get out that they pulled the leads out of the inspector's hands. The youngest dog had to be carried out."
The court heard that food tins had been chewed flat by the starving animals as they had only been fed occasional "tit-bits" by Duncan every few days.
There was urine and faeces in the flat, with the floors covered in rubbish. The kitchen was described as "horrendous".
The animals were taken to the vet where they were all found to be underweight, although none of them had underlying medical issues nor did they show signs of abuse.
After being taken into care by the Scottish SPCA they all reached a healthy weight.
Mental anguish
However, such was the nature of their ordeal that they never recovered mentally.
They continued to show "severe stress" and "behavioural issues" despite the efforts of experts, and all three dogs were put down.
Defence agent Mike Monro admitted his client's neglect would be viewed with "abhorrence".
He said that Duncan had been suffering from drug and alcohol problems at the time of the offences.
The solicitor added: "The tragedy of this case is that the dogs had to be put down due to their mental state.
"They had been left in such an intolerable state that their minds had become locked into that and they were never going to be able to go into a loving household.
"It was due to the mental anguish of what they had went through for these three months, it was irreparable."
Sheriff Christine McCrossan said Duncan's flat was "almost beyond description".
'Reflect on behaviour'
Duncan will have to apply to the courts after five years if he wants to keep animals again.
Scottish SPCA Inspector Fiona McKenzie said: "We welcome the prison sentence and ban given following our investigation.
"In our experience custodial sentences are relatively rare under the Animal Health and Welfare (Scotland) Act, which demonstrates the serious nature of this case.
"We hope Mr Duncan will reflect on his behaviour and the consequences of his actions following this case."