Power restored on Orkney islands hit by undersea fault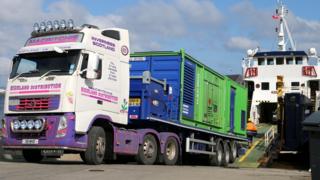 Power has been restored to Orkney isles residents left without electricity due to a fault in the undersea cable from the main island.
The five islands affected were Shapinsay, Eday, Stronsay, Sanday and North Ronaldsay.
Ferries were diverted to transport generators and schools were closed for the day.
Police Scotland said on Monday evening power had been restored and the fault traced.
Schools were due to reopen on Tuesday morning.
All the schools in the affected areas have been closed for the day.
Insp Alicen Winston said: "The agencies involved have worked hard to ensure that all residents received power as soon as possible. I am pleased that all of the islands affected now have supply and there is a team in place to commence repairs.
"In particular, Orkney Ferries has had an important role to play in transporting fuel tanks and generators to the islands affected.
"This power outage has caused disruption to many residents but we appreciate your patience and assistance while power was restored."