Scots find made on Japanese WW2 wreck in Pacific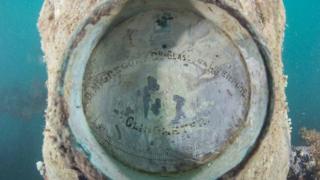 A maritime instrument made by a Scottish company has been found on a Japanese ship sunk in the Pacific by American aircraft in World War Two.
The discovery was made by Aberdeenshire diver Rod Macdonald at Palau where several ships were sunk in a US raid.
The clinometer navigation instrument was made by D McGregor & Co of Glasgow and Liverpool.
Mr Macdonald believes it was "pirated" from another ship for use on the Japanese-built freighter.
The former Stonehaven lifeboatman said Japan, like many over countries all over the world, acquired Clyde-built ships before the war.
However, he believes the vessel involved was built in a Japanese shipyard in 1935 and the instrument was added from another boat.
Mr Macdonald said: "Marine clinometers are used to measure the list of a ship in still water and the roll of the ship in rough water.
"When I examined the face of the clinometer I noted the needle was gone but that the curved scale was still there at the bottom along with the legend identifying the marine instrument maker - 'D McGregor & Co., Glasgow & Liverpool'.
"D McGregor & Co was a Scottish company that had begun manufacturing marine instruments in the 19th Century in Glasgow before going on to open offices in Liverpool and London and become marine navigation instrument makers for the British Admiralty."
Mr Macdonald dived the Palau wrecks with another former Stonehaven lifeboat crew member, Paul Haynes.
Mr Macdonald has written about the clinometer in a new book about the wreck site in the western Pacific, Dive Palau - The Shipwrecks.