Video of Egyptair hijack photo moment emerges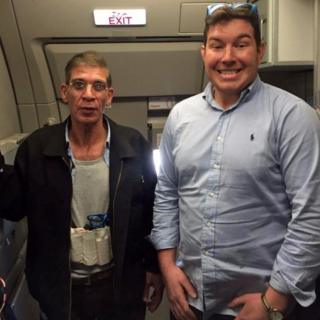 Video footage has emerged of the moment a man posed for a picture with an alleged hijacker wearing a suspected suicide belt.
The original image of Ben Innes, grinning next to his captor on the Egyptair flight, went viral on social media.
Mr Innes, based in Aberdeen, told the Sun newspaper he wanted to "stay cheerful in the face of adversity".
Video footage showing cabin crew taking the photo has now appeared online.
Seif al-Din Mustafa, described by Cypriot officials as being mentally disturbed, used a fake suicide belt to hijack the Egyptair flight and forced it to fly to Larnaca.
He was arrested after a stand-off in Cyprus and the suicide belt was found to be fake.
Mr Innes told the Sun: "I'm not sure why I did it - I just threw caution to the wind while trying to stay cheerful in the face of adversity."
He said the photo, which was taken by a member of the cabin crew, was the "best selfie ever".