Outdoor Granite theatre production to open in Aberdeen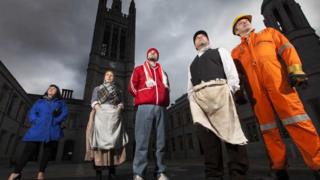 An outdoor production which chronicles the story of Aberdeen and its people - at one of the city's most iconic buildings - is set to open.
Granite will be performed in the quadrangle of Marischal College.
It tells the story of men and women in the city from 1863 to 2016.
Three performances, from Thursday to Saturday, mark the finale of an arts project launched by the National Theatre of Scotland and Aberdeen City Council.
Granite director Simon Sharkey said: "The prospect of the audiences coming through those doors at Marischal College to experience the story of their city is exhilarating. I can't wait."