Burger and Lobster pulls out of Marischal Square development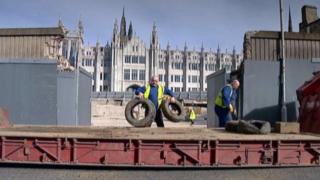 A restaurant chain which had been due to open its first Scottish branch in the Marischal Square development in Aberdeen has pulled out.
Aberdeen City Council said last September that Burger and Lobster had agreed to open an outlet in the £107m office and hotel complex.
The company has now said opportunities have arisen in America which are a higher priority.
Marischal Square is expected to open in the summer of next year.
The council said it was disappointed at Burger and Lobster's decision.
A spokesman for developers Muse declined to comment.
Offices and a hotel are being built on the site of the former council headquarters.
Protestors failed in their bid to get the development halted last March.
Councillors voted by 22-21 to continue with the project.