Hijacker photo man Ben Innes explains Egyptair plane snap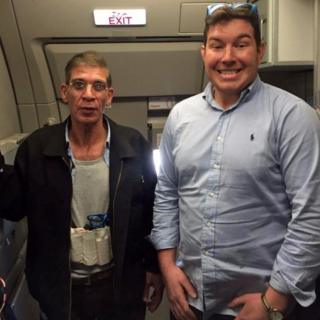 A man who posed for a picture with an alleged hijacker wearing a suspected suicide belt has said he was trying to get a better look at the device.
The image of Ben Innes, grinning next to his captor on the Egyptair flight, has gone viral on social media.
Mr Innes, based in Aberdeen, also told the Sun newspaper he wanted to "stay cheerful in the face of adversity".
The alleged hijacker was arrested after a stand-off in Cyprus and the suicide belt was found to be fake.
Oil worker Mr Innes, who is originally from Leeds, was a passenger on the Airbus A320 on Tuesday when a man, named by Cypriot officials as Seif Eldin Mustafa, was said to have threatened to blow up the aircraft.
The picture was taken during a five-hour standoff after the plane was diverted to Larnaca airport.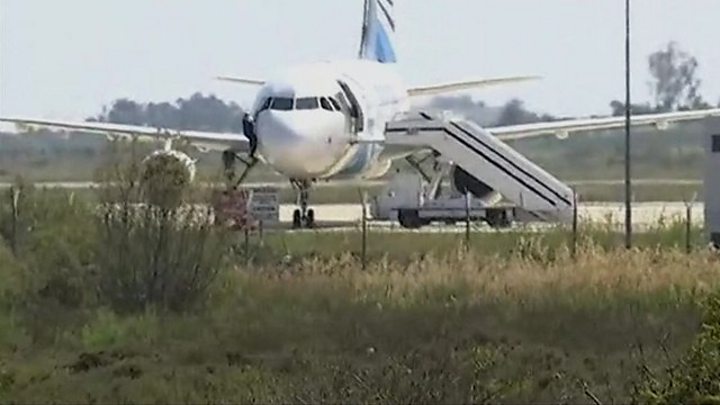 Mr Innes told the Sun: "I'm not sure why I did it - I just threw caution to the wind while trying to stay cheerful in the face of adversity."
He said the photo, which was taken by a member of the cabin crew, was the "best selfie ever".
The plane was carrying at least 55 passengers, including 26 foreigners, on an EgyptAir domestic flight from Alexandria to Cairo.
Most of those on board were freed shortly after the plane landed at Larnaca but the hijacker held seven people hostage before the incident came to a peaceful conclusion.
Mr Innes said part of his motivation was to find out more about the suspected explosive belt and whether it was fitted with a "dead man's trigger" that would detonate the device if the hijacker was incapacitated.
The alleged hijacker's motives were unclear but the Cypriot president said the incident was not terrorism-related.
'Offering support'
Mr Innes was on the plane with TWMA colleague Brian Scott.
A TWMA spokesperson said: "Ben Innes was working from our Alexandria office and was travelling home when the hijacking happened.
"We have been in communication with both Ben and his family, to support both throughout Tuesday's events. We are very pleased that all passengers and crew left the plane safely.
"Our focus right now is on getting Ben back to the UK and offering any support he needs. Until he returns to the office and discussions have taken place, we will be unable to comment any further at this stage."