Man freed amid Aberdeen sexual assault probe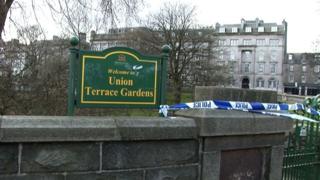 A man charged in connection with an alleged serious sexual assault in Aberdeen's Union Terrace Gardens has been freed from custody.
An incident was reported to have happened during the early hours of Sunday.
Police Scotland said a 26-year-old man had been charged.
He was expected to appear in court on Tuesday, but the Crown Office said the accused did not appear in court and was liberated from custody.
A spokesperson said: "The case against him remains live and under consideration."