Anaesthetist criticised following Aberdeen Royal Infirmary death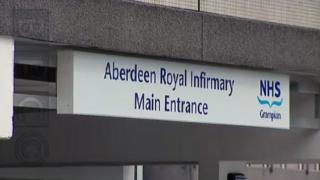 A consultant anaesthetist has been criticised following the death of a patient who was deprived of oxygen during an operation at Aberdeen Royal Infirmary.
The patient, known as a Mr A, suffered a condition called hypoxia during to have a lung removed in July 2011.
He was transferred to intensive care but did not regain consciousness and died one week later.
NHS Grampian has apologised for lack of communication with the man's family.
The ombudsman found that surgery should not have proceeded when it became apparent there was a problem with monitoring carbon dioxide levels in Mr A's blood.
'Human kindness'
He said the performance of the consultant fell below the reasonable level of care.
The ombudsman also criticised a 36-hour delay in informing relatives of what was happening, saying it was the "basics of human kindness".
An NHS Grampian spokeswoman said "We fully accept all of the recommendations presented in this case and will respond accordingly within the timeframes noted within the final report.
"In particular, we accept that our communication with Mr A's relatives was poor and we apologise for that."