Cove Harbour row petition goes to Aberdeen City Council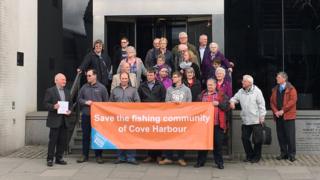 Fishermen involved in a long-running dispute over access to a small Aberdeen harbour hope a petition to the council will aid their cause.
More than 10,500 signatures have been gathered in response to an eviction notice from the landowner Mr Prahlad Kolhe, who wants the fishing boats removed from Cove Harbour.
Large boulders have been moved in front of the pier, preventing access.
The ongoing dispute dates back to April 2014.
Locals argue the harbour has been used for fishing for hundreds of years, but the landowner claims boat owners have "no right" to store their equipment on his property.