Singer Annie Lennox receives award for HIV work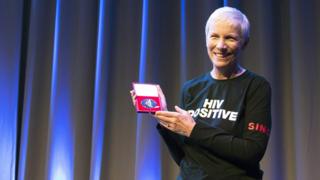 Singer Annie Lennox OBE has received an award for raising awareness of the global HIV/AIDS pandemic.
The Aberdeen-born artist was presented with the Royal Scottish Geographical Society's latest Livingstone Medal at an event in Edinburgh.
When the honour was announced, the singer said: "I'm truly honoured to receive such a significant and historical award."
Ms Lennox was also recognised for her work for Oxfam and the Red Cross.
The Livingstone Medal was endowed by RSGS co-founder Mrs Agnes Livingstone-Bruce in memory of her father, the explorer and missionary Dr David Livingstone.
It was first awarded in 1901 to explorer Sir Harry H Johnston.