Dogs ill after eating burned rubbish at Roseisle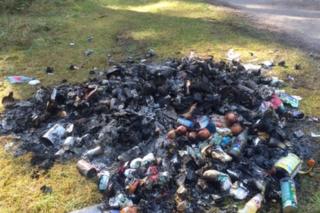 Two dogs have fallen seriously ill after eating rubbish that was dumped and set alight at a Moray beauty spot.
Jeanette Thompson's pets Ellie and Jake have been receiving treatment for poisoning after their trip to Roseisle, near Burghhead, on Sunday.
The Moray dog owner alerted the landowners Forestry Commission Scotland to the incident.
The commission has informed Police Scotland and has begun work to clear away the rubbish.
Roseisle is a large area of coastal woodland popular with dog walkers and other visitors.
The forest's attractions include the remains of World War Two defences.