Disruption after Inverness to Aberdeen train hits pheasant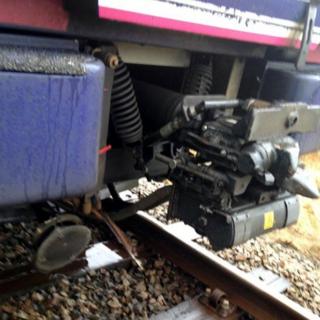 Passengers were left stranded after their train hit a pheasant in Aberdeenshire.
The 05:54 Inverness to Aberdeen service - with 132 passengers on board - was halted after the incident between Huntly and Insch near Kennethmont.
It caused an "air leak" which meant the train could not proceed. ScotRail said arrangements were made to initially take passengers to Huntly.
A passenger said everyone was calm despite several hours of disruption.
'It's frustrating'
The passenger, Leanne Carter, told the BBC Scotland news website: "The train came to a sudden stop a couple of miles outside of Insch.
"After about 20 minutes we were told a bird had hit the front of the train and the train would not be continuing on.
"About an hour passed and eventually all passengers were taken off the train by ladder and led down the track onto an Inverness-bound service back to Huntly.
"Despite everything everyone has been pretty calm about it. It's frustrating but there is nothing anyone can do.
"There are quite a few people who have now missed flights, helicopters offshore or connections on from Aberdeen."
The passengers were later being taken to Aberdeen by train.