Knife violence 'not just schools' problem'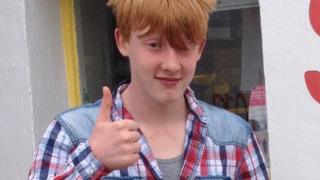 The head of the body representing Scotland's senior teachers has said the carrying of knives is not just a problem for schools to deal with.
School Leaders Scotland General Secretary Jim Thewlis told the BBC's Good Morning Scotland the misuse of knives was a "societal problem".
He was commenting on the death of Bailey Gwynne, who suffered a single stab wound in an Aberdeen school.
An independent inquiry into the case is to be established.
A teenager who stabbed the 16-year-old to death was found guilty of culpable homicide.
Bailey Gwynne died after being stabbed in the heart at Cults Academy last October.
The 16-year-old accused, who cannot be named for legal reasons, had denied murder.
The jury at the High Court in Aberdeen took an hour and 40 minutes to find him guilty of the lesser charge. Sentence was deferred until 1 April.
Judge Lady Stacey told the accused he would be sentenced at the High Court in Edinburgh and would be given a custodial sentence.
The youth was also found guilty of two further charges of having a knife and knuckleduster in school.
Safe at school
Mr Thewlis said: "It is a societal problem, it's not just a schools' problem.
"There is a point to be made that parents have a right to expect that a youngster will go to school and will be safe at school and will return from school."
Mr Thewlis also argued that a balance has to be struck between enforcement of rules and education about knife crime.
He added: "The point has to be made here that tragic though this was for everyone involved it's a very highly unusual event to take place.
"You've got to balance deterrence and education and it's important that we get that balance correct so that young people actually do make good choices and good decisions."
The former head of Scotland's Violence Reduction Unit, John Carnochan, has voiced doubts about the value of any independent inquiry into the case.
Speaking on the BBC's Scotland 2016 programme, he said: "Now when I hear that (an inquiry is being set up) my heart sinks because it'll come back with the notion that we should have strengthened processes and we should have better systems.
"The truth of the matter is that won't make a blind bit of difference."