Torpedo on seabed linked to sinking of Royal Oak in Scapa Flow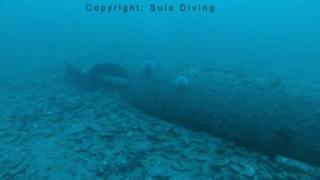 A torpedo found on the seabed of Scapa Flow in Orkney "was likely" to have been among those fired at HMS Royal Oak in World War Two.
The British battleship was sunk by German U-boat U47 on 14 October 1939. More than 800 men died in the attack.
A seven metre (22ft) long object found during a routine seabed survey earlier this week has been confirmed as a German torpedo.
Royal Navy divers have begun work to dispose of the weapon.
Brian Archibald, Orkney Island Council's harbour master and head of marine services, said: "Now that we know that the torpedo is German, we believe it is highly likely that it was among those fired at HMS Royal Oak by the U-boat U47 in October 1939.
"Its location in Scapa Flow is in the vicinity of the area where, from historical accounts, U47 is thought to have carried out the attack."
---
When the Royal Oak was torpedoed in the early hours of 14 October most of the 1,200 crew were asleep below deck.
Under the command of Günther Prien, the submarine U47 had slipped undetected into Scapa Flow, an area of sheltered water.
A first salvo of three torpedoes was fired from the U-boat.
Two missed but the one that struck caused those on board Royal Oak such surprise that many assumed the impact was an internal problem and not an attack.
A second salvo failed to find its target, before a third saw all three strike the battleship.
Less than 15 minutes later, the battleship disappeared beneath the water, claiming the lives of 833 seamen, more than 100 of them "boy sailors" aged under 18.
---
The torpedo was discovered on Saturday.
A remote-operated vehicle (ROV) has also captured video footage of the weapon, which is lying 32m (104ft) below the water's surface.
Ships have been advised not to anchor in the area where it was found.
Scapa Flow was used as a Royal Navy base in both world wars and is now popular with divers due to the British and German relics lying on the seabed.
More than 50 German ships were deliberately sunk in the area at the end of World War One by their commanders to stop them being divided among the Allies.